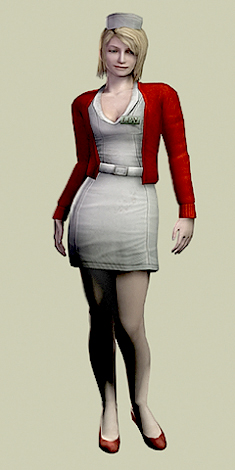 The look of Lisa in Silent Hill: Origins does not differ much from her design in the very first Silent Hill game.
Being about seven years younger now she wears her hair a little bit shorter. In the PSP version it is only chin-length, similar to Maria's in Silent Hill 2. In the PS2 version it is almost as long as in the first game, but it seems like the hair on her left side is longer than on her right, hanging over her shoulder on the front.
Her hat practically looks the same, with the exception that in Origins it has two very pale red/brown lines along the top edge.

Although the nurse dress should be the same, it is now several inches shorter, and on the front as well as on the back the dress now has two vertical seams. Also the collar on the dress is more narrow, and it has only the small pocket on the chest.

Lisa still (or already) wears the red jacket, but not yet the big green SP badge on her arm. The small green badge on the dress pocket reads LPN instead of SP.

The shoes are elegant red pumps, but with a lower heel than before. She does not wear her green earrings, nor the red nail polish.